PE Sports Premium
At the beginning of the academic year 2017-18, we were nominated for an award at the Colchester Sports Personality Awards.
We are delighted to confirm that we were crowned winners of the award for
'Development of PE and Sport for Young People'.
We were renominated for this award at the beginning of the 2018-19 year. We are very proud to be able to confirm that we were announced winners for a second year running.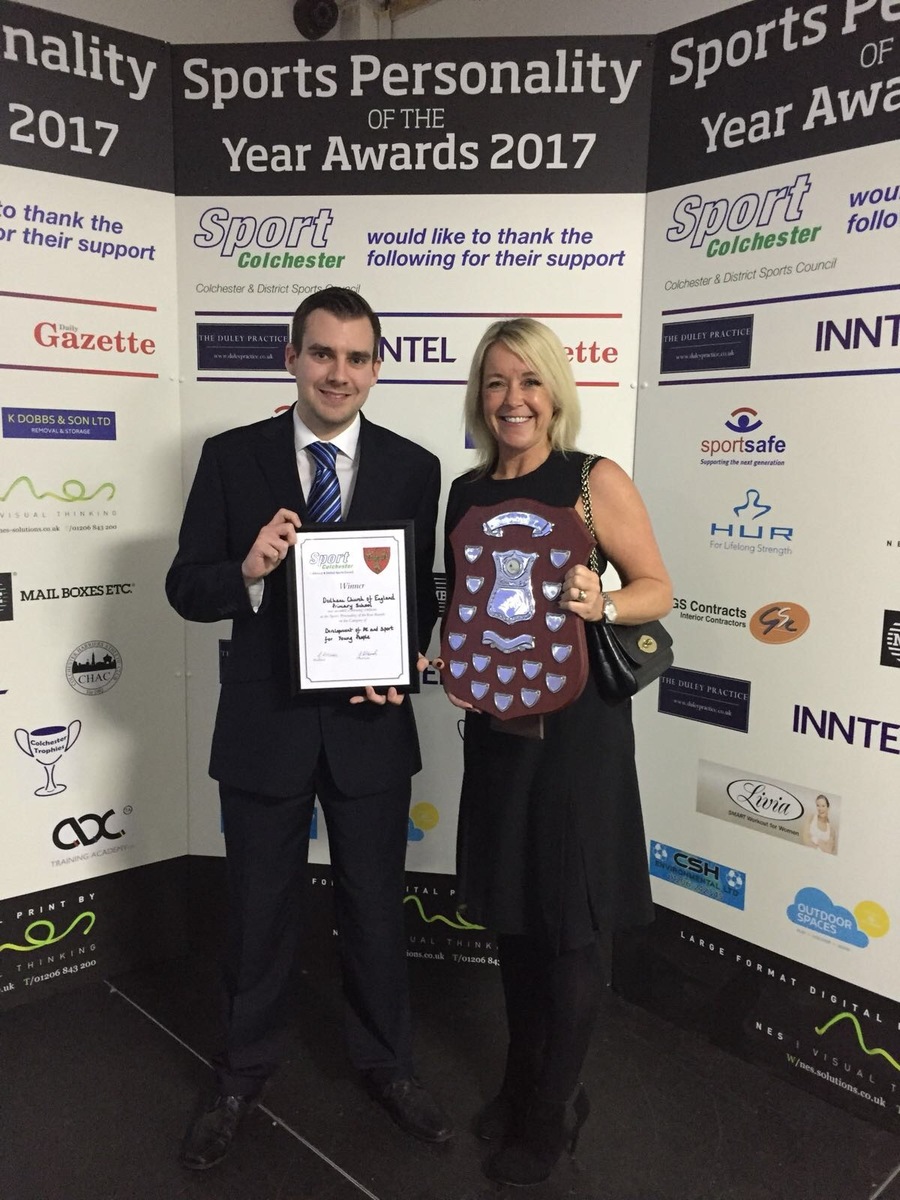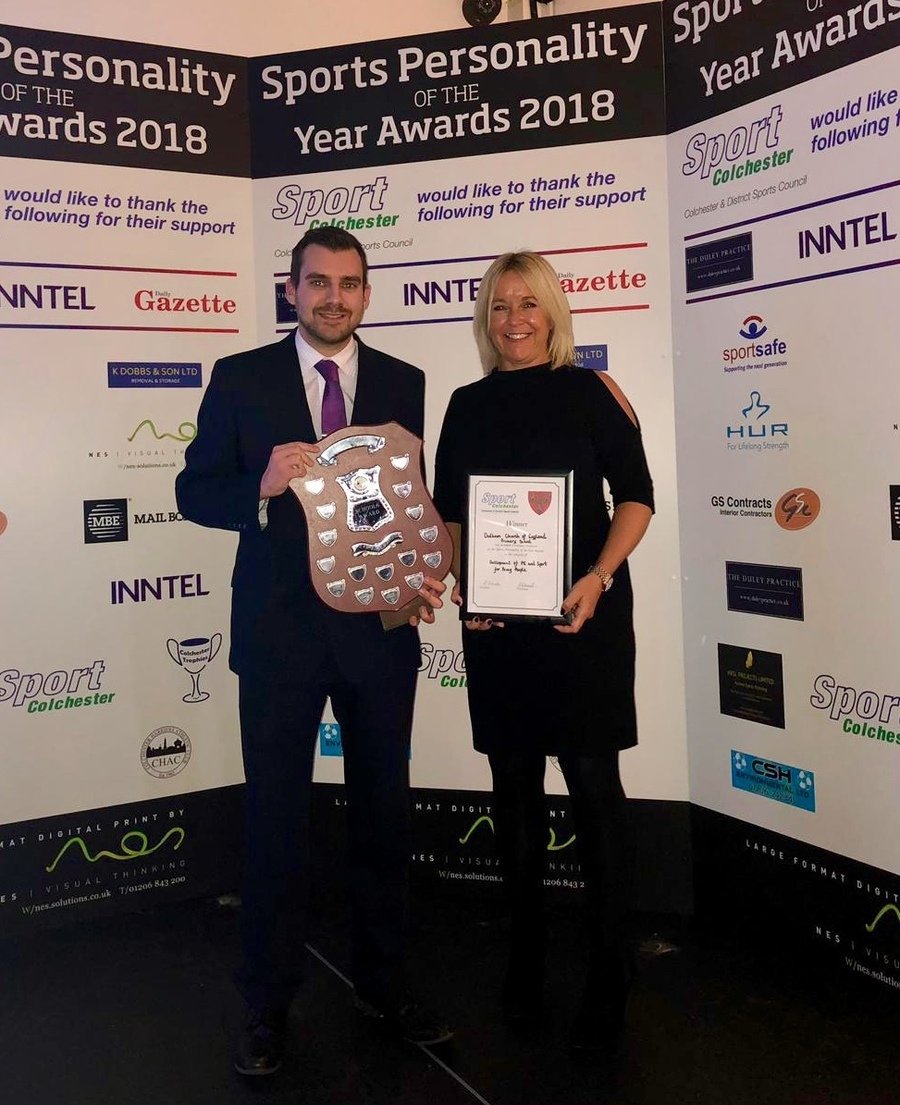 At Dedham C of E Primary School, we believe that physical education, experienced in a safe and supportive environment, is vital and unique in its contribution to a pupil's physical and emotional development and health. The physical education curriculum (also including extra-curricular activities and competitive events) aims to provide for pupils' increasing self-confidence through an ability to manage themselves successfully in a variety of situations. We want to offer experiences that are both challenging and inspiring to all of our pupils.
We also offer a range of extra curricular activities for the children. These are run both by teachers and qualified instructors. A full list of these activities can be seen on the 'Clubs' page under the heading of 'Parents'. We aim to provide each year group with similar opportunities.
For the past few years, the government has allocated sports funding to each school. This has provided us with the opportunity to identify areas of PE in which we wish to make further progression. This development will continue to happen throughout the school year. The links at the bottom of the page show the impact that this funding has had on the relevant academic years.
Below, you will find an outline of some of the schemes and programmes which have been put into place through this funding as well as the benefits that this will have for the children.
Underneath this, at the bottom of the page, you will find links to a more detailed document. These will show the spending for the relevant year.
We identified gymnastics as an area that we would like to strengthen. Our aim is to increase the participation and enjoyment of the subject. We have invested in new equipment. This will allow us to be able to set up the hall in various different styles to ensure that the children have access to the equipment. It will also allow us to ensure that the skills learnt can be progressed throughout the year groups by setting up the hall in a more challenging way. All of the staff received gymnastics training in 2016. This will allow us to teach a wider range of gymnastics safely. We have a gymnastics coach who offers curriculum time to each class. Each class will also have the opportunity of an after school club throughout the year.
We have invested in a dance programme called imovesdance as this was an area we had identified as one that we would like to improve. This programme will allocate at least two different dance styles to each year group and aims to increase participation and enjoyment of dance. It will also support all members of staff ensuring quality teaching of dance.
We have invested in resources for different sports to allow more children access to the equipment at the same time. This will increase levels of participation and engagement during lessons.
We had several very successful years of squash. Qualified coaches from The Garrison Squash Club in Colchester delivered a series of lessons to Year 5 and Year 6. This allowed the children to continue to develop the skills learnt from previous sessions. Over the last few years, we have had several children join a squash club since the lessons. We were also involved in competitive squash tournaments against other schools and were very successful. Following the success of this, Years 3 and 4 were also given the opportunity to experience playing squash. They too have also had the opportunity to represent the school in competitions and again were successful. During 2015-16, the difficult decision was made to stop squash and to focus on tag rugby. This switch in sport meant that a much higher proportion of the school would experience a new sport and the impact of this new sport would be greater.
In the year 2016-17, we decided to offer tag rugby instead of squash. This meant that all of the children in the school would get the chance to experience a new sport. We have a tag rugby coach who will spend a half term with each class. This will also result in competitive events. 2017-18 has seen the set-up of a tag rugby after school club for the first time.
We have arranged for a sports coach from ASM to take a class for a PE lesson for an hour a week. Each half term, the coach will work with a different year group. They will be given a sport / skill to focus on. Whilst these sessions are taking place, the teacher will be observing and taking part so that in future years, the teacher will feel confident to teach that sport / skill. We have also arranged for the sports coach to support a lesson taught by the class teacher. This will help the teacher to progress their skills and also allow for smaller group work to occur.
During the summer months, we have continued to invest in a sports coach to run a lunchtime sports club. This is proving to be very popular and a high number of children take part in the competitive and active game each week. We had the aim of getting more children involved not just in the playing of games, but in the set-up, creation and running of them.
Following government advice, an area that we identified for focus was the engagement and participation of girls in sport. We had an ASM coach come into school and offer a curriculum session for all of the girls in a set class. Over the year, the girls in each class got the opportunity to experience this session. We also offered an after school club for girls. Each term had a different focus - Autumn = hockey, Spring = dodgeball and Summer = cricket/rounders. We received a kind donation to help us fund this project. We have then used the sports premium money to cover any remaining cost of this club to try to encourage as many girls as possible to take part. Since starting this focus, it has become a national topic of conversation which we are ahead of!
At the begining of 2017-18, we have decided to come away from this initiative. We have decided to use the sports fund to increase the time that the coaches are in so that every child in the school will be given the same opportunities. This has proven to be very popular!
It is a requirement for children in Year 6 to be able to swim 25m both forwards and backwards. Using our sports premium money, we used to offer swimming lessons for any pupil not able to complete this requirement. The money has gone towards; pool hire, transport to the venue and the swimming instructor. Last year, we took the children to the swimming pool at Alresford Primary School. Before this, we used Manningtree High School.
However, due to new documents and guidance, swimming will no longer be paid for out of the sports premium fund. This sequence of lessons will still be offered.
Academic Year 2018 - 2019
Academic Year 2015 - 2016
Academic Year 2016 - 2017
Academic Year 2017 - 2018